The Research Supervisor of the Year Award this year will be presented to Henk Wymeersch
, Associate Professor at department of Signal and System, for his exceptional and 
exemplary role as a supervisor.
Henk Wymeersch stood out among 14 prominent supervisors which were all nominated 
by Doctoral students within their own research groups. The honoree was selected by the Doctoral
Student Guild (DS) based on a series of PhD students interviews where great consideration were put to 
find a candidate that holds all the different competences that DS finds important for successful 
supervision.
This year's prize winner Henk Wymeersch excels in his ability to create a dedicated and inspiring 
environment and to promote both professional and personal developments of his group members,
which are deeply appreciated by his students.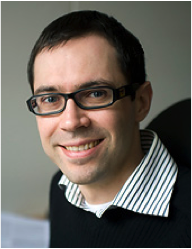 Henk Wymeersch is a renowned researcher in field of communication systems, currently leading a group of nine PhD students and four postdoctoral researchers. As a supervisor he stands out for his ability to create a dedicated and inspiring environment and to promote the professional and personal developments of his group members. His approach facilitates the collaborations within the group while at the same time it guarantees that each member has his/her own signature work. The PhD students are encouraged to think independently and to reach beyond what they ever thought they were capable of. Henk's planning and coordination skills are highly appreciated by his students and considered as key for the success of the group. Furthermore, he encourages students' networking, which yields fruitful exchanges and collaborations with other research institutions. As a result, the PhD students in his group develop keen awareness and consideration of their role within the research community.
Associate Professor Henk Wymeersch stands out for his comprehensive supervision. His exemplary role inspires his students and hopefully, through this award, it will inspire also all the supervisors and researchers at Chalmers.