Hello Chalmers Ph.D. Students!
Here comes the October 2019 issue of the DS newsletter, which we aim to send out 2-3 times a year. In this newsletter we keep you updated about changes and is

sues important for Ph.D. students at Chalmers, so please spend a few minutes to read this newsletter. It contains a lot of useful information for you.
About Chalmers Doctoral Students Guild (DS)
The Chalmers Doctoral Students Guild (DS) is the coordinating body between Ph.D. students at all Chalmers departments. It represents the Ph.D. students' interests in several boards and committees at Chalmers and outside of Chalmers. Read more about DS here.
Save the Date 22nd November 2019
Save the date 22nd November 2019.

We will have our

General Assembly

on that day. It's a good opportunity for you to meet DS board members, and possibly share your issues!

Date:

22nd

November 2019

Time:

12:00-13:00

Location:

Lecture hall HA1 on Hörsalsvägen,

map
Chalmers Sustainability Day
This year's Chalmers Sustainability Day will have the theme Circular Economy. All PhD's are invited to submit posters where the focus of the work is in line with the theme of Circular Economy. More information about what the day will entail can be found in the event webpage and if you feel inspired to share your work, sign up here. Alternatively, you could also send your poster to Anton Grammatikas.


Today, we often hear about 'circular economy' and there is an abundance of information about it on the web. However, if you are not too familiar with what it entails, this short video is a nice introduction. The Chalmers Sustainability Day forms part of the Sustainability week that will be held between 4 and 9 November – visit the Act!Sustainable webpage for their exciting lineup.
PE3 wellness and Doktor.se
PE3 is Chalmers´ occupational health service partner and gives managers and employees support and advice concerning work-related health issues. If you want help from PE3, please talk to your line manager.

Read more

here

. Also, if you really do not want to talk to your line manager, you can go 3 times anonymously. Read more here.
Doktor.se: Chalmers employees are now offered a subscription to the Doktor.se health service, which gives the whole family quick contact with specialist nurses and doctors via the mobile phone app. If you are interested in the service, please go through the Chalmers Plus benefit portal.
Equality at Chalmers
"
Chalmers policy assures that no student is subjected to discrimination or harassment as a result of sex, transgender identity or expression, ethnicity, religion or other belief, disability, sexual orientation or age. Chalmers does not accept the use of demeaning language or images where gender is reduced to sexual connotations. Also, Chalmers policy does not accept the spreading of racist ideology
."
The equality effort at Chalmers is focused on creating a workplace characterized by openness and diversity, free from all forms of discrimination and offensive special treatment. Read more here about equality in education and Chalmers' big investment to make Chalmers equal.

Any discrimination, harassment issues must be reported.

So, it's good to know where to report if you were exposed to such unexpected situations

.
Introduction Day, GTS Courses, Study Plan, Exam
Introduction day:

A general introduction day is held each semester for all new doctoral students. This introduction day provides both general information about research studies (for example about the study plan) at Chalmers and information about rights and responsibilities.

The introduction day is mandatory! Next session: 22th January 2020 Last date to register: 20th January 2020.

Register here.

Read more about introduction day here.


GTS courses:
The aim of GTS Courses is to develop your personal and professional skills. As per Chalmers policy, 15 HEC of the GTS curriculum is mandatory
of which 9 HEC should be completed before the licentiate degree.
Read more
here
.
Individual Study Plan:
Individual study plan for Ph.D. studies is mandatory.
Read more here.

Electronic version of study plan is under development.
Sign up for exams:

It's mandatory

for all students to sign up for exams on

the Ph.D. portal. To sign up, go to "My start page" and choose the service "Examination, sign-up/cancel sign-up".

Read more here. Alternatively you can s
end an email to the
Student
Centre
: studentcentrum@chalmers.se, with the following information
at the latest
on the same day as
registration
closes:
Personal identity number

Name
Course code
Course name
You can also see your transcript in the
Ph.D. Student Portal.
Popular presentation: It is mandatory to do one popular science presentation (GFOK070)

as part of the Generic and Transferable Skills training. To perform the mandatory popular presentation you should have reached the second half of your Ph.D. studies.

Read more here.

A list of available presentation platforms can be found

here.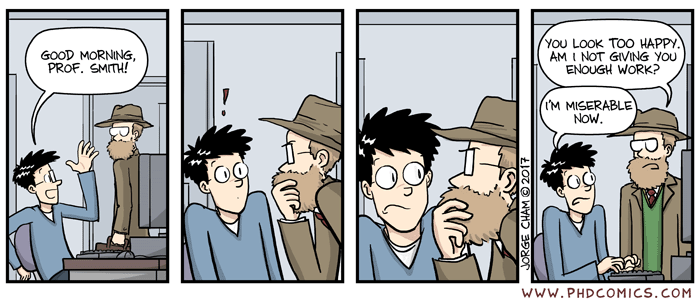 Vacation - Don't work when you are on vacation!
Vacation is an important time to rest and recover, allowing you to be more efficient during the rest of the year. So don't fall for the temptation to use it to catch up with you back-log. Also be aware that you are not covered by Chalmers insurance if you work when you have the vacation. Plan your vacation together with your supervisor and manager, so that you have enough time to rest. If you still have vacation days left when you end your employment you are entitled to be compensated for these saved vacation days. Read more about vacation rules here.
A. Winter is coming soon!
Be mentally prepared! It
can be quite dark and cold. Read how an international student experienced Swedish winter here.
A recent study conducted in PhD Students from Belgium revealed that one in two PhD Students experiences psychological distress, and one in three is at risk of common psychiatric disorder.

The study also reported that work and organizational context are the top two predictors of PhD Students' mental health.

Read more here.


Perfectionism has become a hidden epidemic among young people in the academia!
The news suggests that the organizations like schools and universities must resist marketized forms of competition, at the expense of young people's mental health. Read more here.