Hello Chalmers Ph.D. Students!
Here comes the November 2020 issue of the DS newsletter, which we aim to send out 2-3 times a year. In this newsletter we keep you updated about changes and issues important for Ph.D. students at Chalmers, so please spend a few minutes to read this newsletter. It contains a lot of useful information for you from finding social activities, news and scheduled events.

About Chalmers Doctoral Students Guild (DS)
The Chalmers Doctoral Students Guild (DS) is the coordinating body between Ph.D. students at all Chalmers departments. It represents the Ph.D. students' interests in several boards and committees at Chalmers and outside of Chalmers. Read more about DS here.
Save the Date 26 November

2020
Save the date 26th November 2020.

We will have our

General Assembly

on that day. It's a good opportunity for you to meet DS board members, and possibly share your issues!

Date:

26th

November 2020

Time:

12:00-13:00

Location:

ZOOM, Password:

747559
New rules of procedure for PhD students
Do you know where to look for rules/guidelines related to your PhD education? There is a set of rules of procedure written exclusively for Chalmers PhD students to follow during Doctoral education.

The rules of procedure for doctoral programmes at Chalmers correspond to the regulations that apply to state higher education institutions in Sweden under the Higher Education Act and the Higher Education Ordinance, etc.

These rules are recently revised and in place from June 2020. One can read them to know more about the procedures involved during time of PhD education here. DS Guild has contributed in many ways to resolve the issues caused by the previous rules of procedure.



COVID-19 impact on PhD students
DS G
uild
has received immense response from PhD students regarding the issues due to the COVID-19 situation. One can know what kinds of issues are raised by the PhD student community at Chalmers here. We have also suggested some solutions related to the mentioned challenges at the end of the document.
Genie | Gender Equality for Excellence

The initiative is funded by the Chalmers University of Technology Foundation, was launched on 1 January 2019 and run through 2028. As far as Chalmers knows, this is by far the largest individual investment in gender equality made by any university.


Like other technical universities, Chalmers has a very low proportion of women in its faculty. However, research shows that a more even gender balance leads to greater scientific success and a better working environment, for both men and women. As a strategy to become more excellent, Chalmers aims to increase the proportion of women among its faculty.
The overall goals of the project:
Increase the proportion of female faculty.
Remove the structural and cultural obstacles that hamper women's careers.
Create a working environment that is diverse and inclusive and supportive of excellence in research and teaching.
Genie seminar on "A conscious focus on unconscious bias​"
Genie invites to a seminar on "unconscious bias" with Annette Bak, Head of Advanced Drug Delivery at AstraZeneca, and Katarina Matson, Head of Culture & Diversity at Volvo Cars. Sign up to the seminar using the Registration link - we will send you the Zoom link to the seminar the day before the seminar.

Date:

23rd

November 2020

Time:

15:00-16:00

Location:

ZOOM
Introduction day
DS participates in every Introduction of PhD student sessions. One of the DS board members presents the practical information on PhD student life at Chalmers. Here is the link to access the presentation.

Best practices in publishing
Do you know to how to choose which journal/conference to choose to publish your work? To answer such questions, Chalmers Library has prepared a detailed document on

'Best practices in publishing'

. The document can be accessed here.


Look out for lectures and workshops from Library exclusively designed for PhD students here.


Social Activity by DS Guild
DS Guild has organised a

Hike at Vättlefjäll which was

attended by about 30 PhD students. Some of the pictures during the hike are below. Please do look out for future events often posted in our Facebook page.
Act Sustainable Research Conference 2020
Registration is open for Act Sustainable Research Conference 2020 November 18-19 (online conference)
Science for achieving sustainable development: What does the research community in Gothenburg bring to the table in the UN Decade of Action?
We have less than 10 years to transform our world, in order to achieve the UN Sustainable Development Goals (SDG:s). At Act Sustainable Research Conference you will have an opportunity to gain new knowledge and discuss what the research community in Gothenburg can bring to the table in order to advance the role of science in the UN Decade of Action.
When & how: November 18-19 at 8.30-12.15 (registration and mingle from 8.00 AM), in Zoom meetings. The conference is held in English.


For whom: The conference is primarily aimed at researchers associated with Chalmers University of Technology and the University of Gothenburg. However, we also welcome other researchers and stakeholders who want to learn more about and strengthen their contacts with the research community in Gothenburg.


Call for Supervisor of the year 2020/21

Do you think your department has the best supervisor who are not the list here? or your supervisor is another great example along those awarded perviously? then it's

time to nominate your supervisors for the honorable award "Supervisor of the Year 2020/21".

The prize is a fine academic merit and it will be awarded by the rektor at the promotion ceremony

in February 2021. It acknowledges a supervisor at Chalmers, who has shown excellent

supervision qualities and a large concern towards his/her PhD students. The applications are accepted until 31 December 2020. For further details go through here.
PE3 wellness and Doktor.se
PE3 is Chalmers´ occupational health service partner and gives managers and employees support and advice concerning work-related health issues. If you want help from PE3, please talk to your line manager.

Read more

here

. Also, if you really do not want to talk to your line manager, you can go 3 times anonymously. Read more here.
Doktor.se: Chalmers employees are now offered a subscription to the Doktor.se health service, which gives the whole family quick contact with specialist nurses and doctors via the mobile phone app. If you are interested in the service, please go through the Chalmers Plus benefit portal- Benify.
About Ombudsmen and insights

"
Chalmers policy assures that no student is subjected to discrimination or harassment as a result of sex, transgender identity or expression, ethnicity, religion or other belief, disability, sexual orientation or age. Chalmers does not accept the use of demeaning language or images where gender is reduced to sexual connotations. Also, Chalmers policy does not accept the spreading of racist ideology
."
The equality effort at Chalmers is focused on creating a workplace characterized by openness and diversity, free from all forms of discrimination and offensive special treatment. Read more here about equality in education and Chalmers' big investment to make Chalmers equal.

Any discrimination, harassment issues must be reported.

So, it's good to know where to report if you were exposed to such unexpected situations

.
One can report equality and diveristy issues at Chalmers level through equality@chalmers.se.
Also, each department has a

gender equality representative, so try to know who is the representative at your department. You can also contact the doctoral student representative

(DS Board) to report such incidence.
Introduction Day, GTS Courses, Study Plan, Exam
Introduction day:

A general introduction day is held each semester for all new doctoral students. This introduction day provides both general information about research studies (for example about the study plan) at Chalmers and information about rights and responsibilities.

The introduction day is mandatory! Next session: 20th January 2021 Last date to register: 18th January 2021.

Register here.

Read more about introduction day here.


One of the DS guild member presents the practical information on PhD student life during Introduction day. Here is the link to the recent presentation by Andri Spilker.
GTS courses:
The aim of GTS Courses is to develop your personal and professional skills. As per Chalmers policy, 15 HEC of the GTS curriculum is mandatory
of which 9 HEC should be completed before the licentiate degree.
Read more
here
.
Individual Study Plan:
Individual study plan for Ph.D. studies is mandatory.
Read more here.

Electronic version of study plan is under development.
Sign up for exams:

It's mandatory

for all students to sign up for exams on

the Ph.D. portal. To sign up, go to "My start page" and choose the service "Examination, sign-up/cancel sign-up".

Read more here. Alternatively you can s
end an email to the
Student
Centre
: studentcentrum@chalmers.se, with the following information
at the latest
on the same day as
registration
closes:
Personal identity number

Name
Course code
Course name
Popular presentation: It is mandatory to do one popular science presentation (GFOK070)

as part of the Generic and Transferable Skills training. To perform the mandatory popular presentation you should have reached the second half of your Ph.D. studies.

Read more here.

A list of available presentation platforms can be found

here.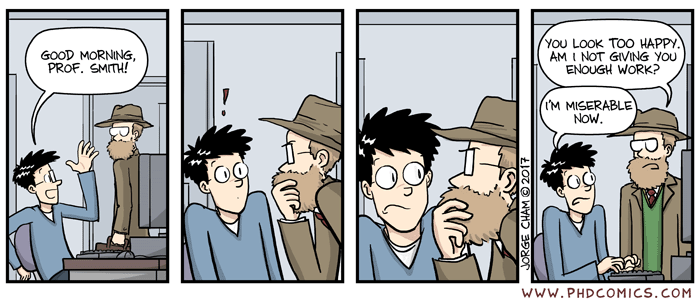 Vacation - Don't work when you are on vacation!
Vacation is an important time to rest and recover, allowing you to be more efficient during the rest of the year. So don't fall for the temptation to use it to catch up with you back-log. Also be aware that you are not covered by Chalmers insurance if you work when you have the vacation. Plan your vacation together with your supervisor and manager, so that you have enough time to rest. If you still have vacation days left when you end your employment you are entitled to be compensated for these saved vacation days. Read more about vacation rules here.
A. Winter is coming soon!
Be mentally prepared! It
can be quite dark and cold. Read how an international student experienced Swedish winter here.
A recent study conducted in PhD Students from Belgium revealed that one in two PhD Students experiences psychological distress, and one in three is at risk of common psychiatric disorder.

The study also reported that work and organizational context are the top two predictors of PhD Students' mental health.

Read more here.


Perfectionism has become a hidden epidemic among young people in the academia!
The news suggests that the organizations like schools and universities must resist marketized forms of competition, at the expense of young people's mental health. Read more here.