Hello Chalmers PhD Students!
Here's our newsletter, which we aim to send out 2-3 times a year. In this newsletter, we keep you updated on changes and work that is relevant to you.

Please spend a few minutes to read this newsletter. It contains a lot of useful information for you.
About DS
The Chalmers Doctoral Students Guild (DS) is the coordinating body between PhD students at all Chalmers departments. It represents the PhD students' interests in several boards and committees at Chalmers and outside of Chalmers. Read more about DS here.
Ph.D. Survey Reminder

Before the end of last year, every Ph.D. student should have received an email with the Ph.D. student Survey 2017.
The deadline for it is the 30th of March. Help us improve your situation as a Ph.D. student by taking the survey!
Feelgood is Chalmers´ occupational health service partner and gives managers and employees support and advice concerning work-related health issues.

If you want help from Feelgood, please talk to your line-manager. Read more here.
If you really do not want to talk to your line manager, you can go 3 times anonymously. Read more here.
Doktor.se: Chalmers employees are now offered a subscription to the Doktor.se health service, which gives the whole family quick contact with specialist nurses and doctors via mobile phone app. Who is interested in the service may enter and register through Chalmers Plus benefit portal.
CHARM Event Impression
On the 2nd of February,

Alumni from different companies came back to Chalmers to share their work experience.
The event started with 5 min presentations from the Alumni about their personal story, the companies and possible career paths for Ph.Ds in industry. The 5 min format created a dynamic atmosphere, which avoided the typical power-point poisoning. This was followed by a mingle-dinner, and it was amazing to see so many people talking and sharing their opinion in a relaxed environment.


We are very happy that the event received a big enthusiasm from both the Ph.D. students and the Alumni!
A big thank from the organization committee! Hope to see many more of you next year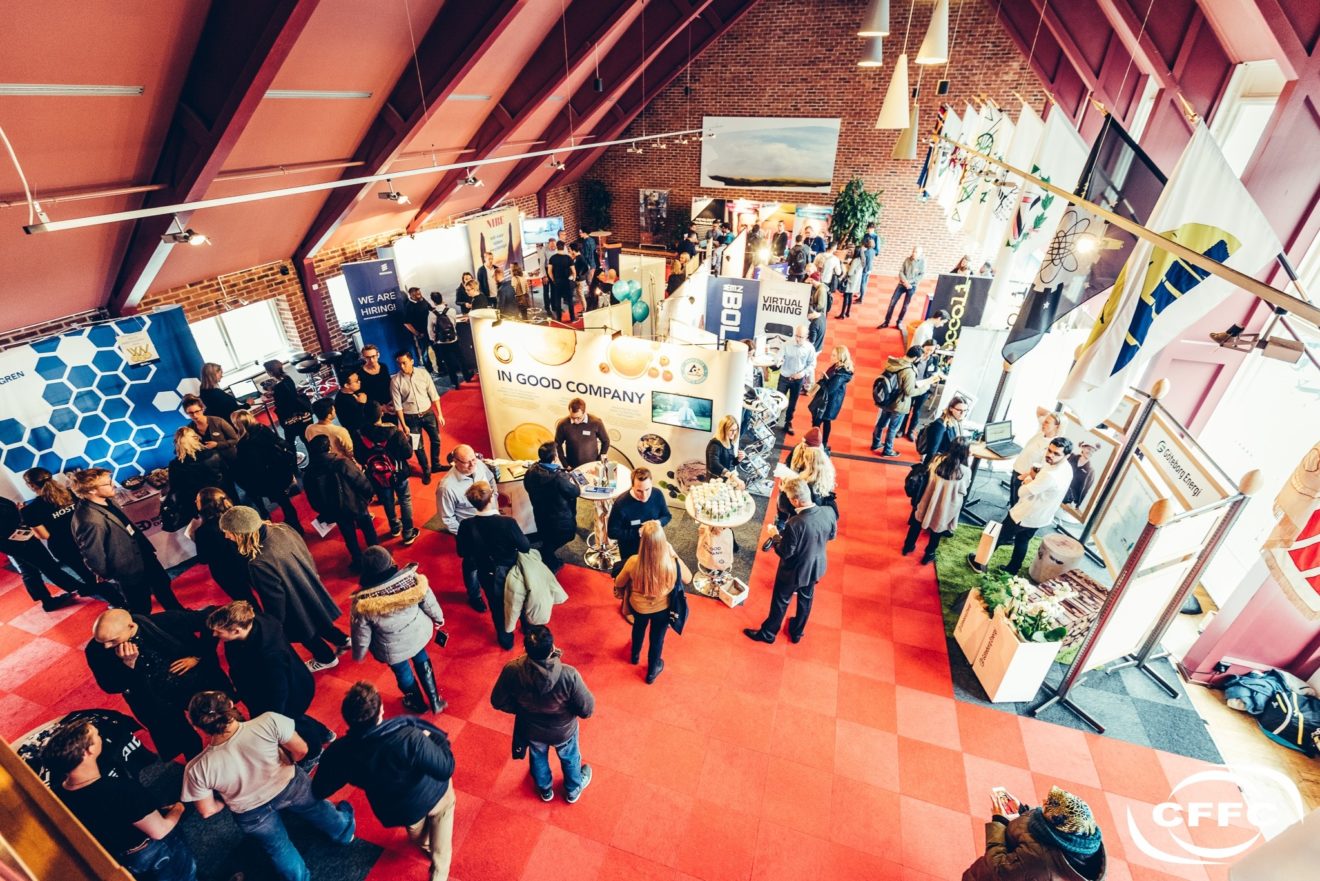 Photo: CHARM Career Fair. Photo courtesy:

Andreas Pegelow/CFFC.se
Introduction day, GTS courses, Individual Study Plan, Sign up for exams, Popular presentation
Introduction day: A general introduction day is held each semester for all new doctoral students. This introduction day provides both general information about research studies (for example about the study plan) at Chalmers and information about rights and responsibilities.

The introduction day is mandatory! Next session: 14th May 2018

. Register here. Read more about introduction day here.


GTS courses:
The aim of GTS Courses is to develop your personal and professional skills. As per Chalmers policy,
15 HEC of the GTS curriculum is mandatory
of which 9 HEC should be completed before the licentiate degree.
Read more
here.
Individual Study Plan:

Individual study plan for PhD studies is mandatory

. Read more here.
Sign up for exams:

It's mandatory

for all students to sign up for exams on PhD portal. To sign up, go to "My start page" and choose the service "Examination, sign-up/cancel sign-up". Read more here. You can also see your transcript in the PhD Student Portal.
Popular presentation:

It is mandatory to do one popular science presentation (GFOK070)

as part of the Generic and Transferable Skills training. To perform the mandatory popular presentation you should have reached the second half of your PhD studies. Read more here. A list of available presentation platforms can be found here.
Save the date 8th May
Save the date 8th May 2018.

We will have our

General Assembly

on that day. It's a good opportunity for you to meet DS board members, and possibly share your issues!

Date:

8th May 2018

Time:

12:00-13:00

Location:

Lecture hall HA1 on Hörsalsvägen,

map
DOMB Report 2016/2017
You can read the annual report from the DOMB
(Doktorandombud)
here.
The role of the DOMB is to help individual Ph.D. students with problems that may arise in the course of their research or employment. The DOMB is employed directly by the DS board and is hence independent of the university and a neutral party for the support of Ph.D. students. Every Ph.D. student, both those employed by Chalmers and industrial Ph.D. students, can seek the DOMB´s guidance with any work-related problem, big or small. The DOMB´s contact information can be found on the DS webpage under "support for Ph.D. students".
Interview with DS Vice-Chair Anna Köhler
Anna Köhler, PhD student at the Department of Space, Earth and Environment, Energy Technology, is our current Vice-Chair of the DS Board. Her research focuses on the fluid dynamics in fluidized beds, addressing with both experimental work and modelling. Her work aims especially at a better usage of non-fossil fuels for example biomass in fluidized bed units, as there is still very little knowledge at hand and there is an important part of Sweden's sustainable future.

Recently we interviewed her and asked a few questions regarding her work at DS Board and life as a PhD Student. We have also asked how she handles stress and maintains a balance between her personal and professional life

. Read the full interview here.
New Vice President, Anders Palmqvist

The DS board took part in the recruitment process of the new Vice President of research, research education, and internationalization.


The new Vice President is very interested in Ph.Ds opinion, so we are sure we will collaborate to improve our education.


Best wishes for a successful start to Anders Palmqvist!

Perfectionism has become a hidden epidemic among young people in the academia! The news suggests that the organizations like schools and universities must resist marketized forms of competition, at the expense of young people's mental health. Read more here.