Hello Chalmers PhD Students!
Here comes the first issue of the DS newsletter 2021, which we aim to send out twice a year. In this newsletter we keep you updated about changes and is

sues important for PhD students at Chalmers, so please spend a few minutes to read this newsletter. It contains a lot of useful information for you.
About Chalmers Doctoral Students Guild (DS)
The Chalmers Doctoral Students Guild (DS) is the coordinating body of Ph.D. students at all Chalmers departments. It represents the Ph.D. students' interests in several boards and committees at Chalmers and outside of Chalmers. Read more about DS here.
The DS Survey 2020!

Once in two years, DS board in co-ordination with department-level PhD councils would sent out a PhD survey to all Chalmers PhD students. We use the survey findings to advocate improvements to the current working environment and research education framework. The recent PhD survey was conducted in March 2020 and received the response from 468 PhD students.


It was found that most PhD students are satisfied with their work, describe their immediate working environment as having an atmosphere of openness and trust and have a good relationship with their supervisor(s).




With the help of both a quantitative and a qualitative analysis of the survey data, focus areas could

be identified that can guide the efforts of the DS as well as the relevant bodies in the administration at Chalmers.




Statistically significant influence factors could be identified on indicator values describing e.g. student satisfaction, stress levels and work-related sickness for different sub-groups in the student population.

A good relationship between the PhD student and their supervisor(s) was found to be of outstanding importance.

The gender of a doctoral student plays a significant role in their life as a PhD student at Chalmers.




See the following links for more details:
PhD Student Guide

DS has created a PhD Student Guide which includes useful information and links for PhD students. The covered topics are shown in the following picture.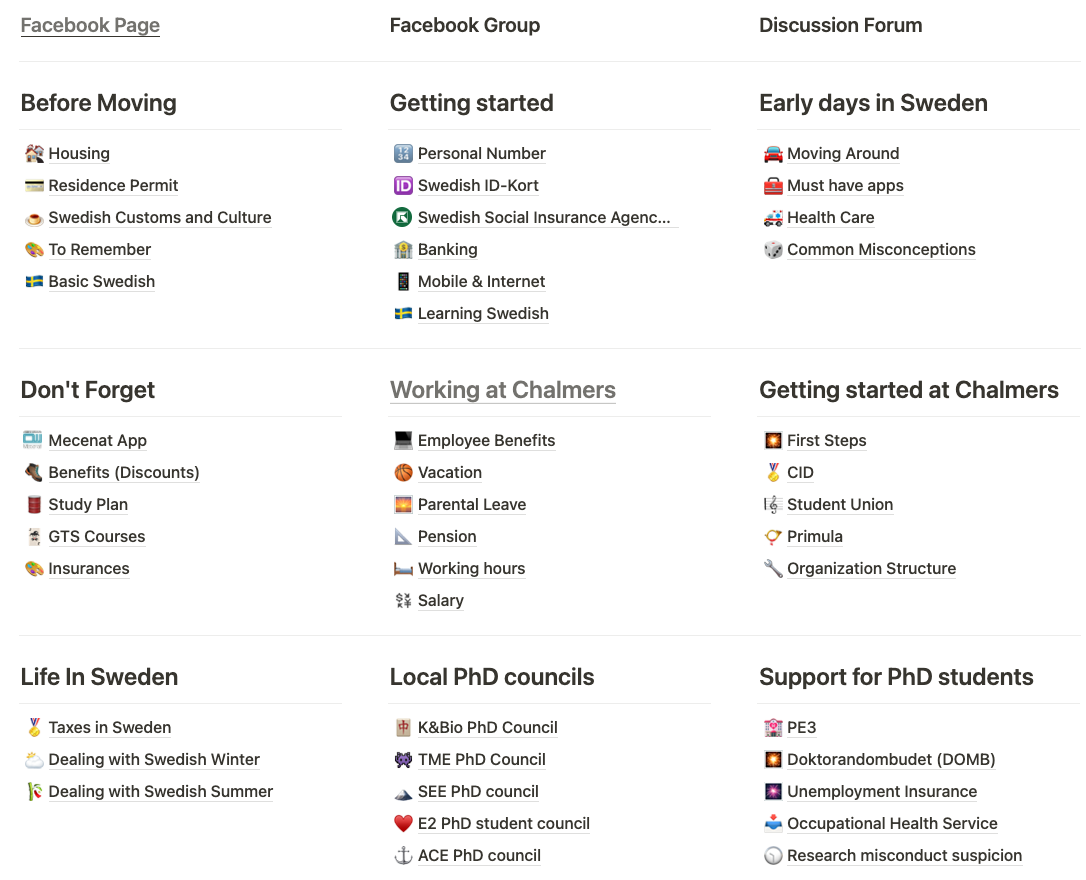 Doktorandsombudet (DOMB): PhD students representative

The Doctoral Students' Representative (Doktorandombud, DOMB) is employed by the board of the Doctoral Students Guild (Doktorandsektionen, DS) to advise, support and/or represent doctoral students at Chalmers. In any situation the progression of the DOMB's actions, from remaining in the background to active intervention, is guided by the doctoral student. The DOMB is neutral with respect to the rules but acts in the interests of the doctoral student. The DOMB's communications with doctoral students and all case files are confidential. Within the limits of the required confidentiality, this annual report presents a summary of the DOMB's activities between December 1, 2019 and November 30, 2021 (Year 5) along with some cumulative comparative data from 2017 to 2020 and from 2016 to 2019.
Christopher Sauer, PhD Student at the division of Applied Chemistry, Department of

Chemistry and Chemical Engineering

, is working as the Chair of DS Board 2020-2021. Recently we interviewed Chris, and asked him questions ranging from "how does it feel like being in the DS Board" to "hobbies" and "handling stress".


"A failure on first sight definitely makes you learn and might turn out to be the spark for a great idea."
"To get our interest and opinions through communication is key."
Social Activity by DS Guild
DS Guild has organised a Hike at Sisjön. Some of the pictures during the hike are below. Please do look out for future events often posted in our Facebook page.
Supervisor of the year

Supervisor of the Year is a prize that acknowledges a supervisor at Chalmers, who has shown excellent supervision qualities and a large concern towards his/her PhD students. DS makes a committee consisting of 3 DS board members, who advertises a call for nominations. The committee then goes through the nominations, selects the top nominations, and arranges interviews with the students who wrote the nomination letter and their supervisors.
This year, we interviewed
Formation of Chalmers Women's Association

Chalmers Women's Association (CWA) was formed to build a stronger female network and inspire, motivate and engage students in their studies and future careers. Creating a more equal academy and technology industry. We are a non-profit association at Chalmers, founded by and created for female and non-binary students. Read more and sign up to be a member at www.cwa-chalmers.se.


The membership at Chalmers Women's Association is free and open for all students studying, as well as alumni and individuals working at Chalmers. as a member you will get the opportunity to:
- participate in our events and activities
- be part of a growing network between non-binary an female students
- connect with companies and individuals who represent a more equal academy and technology industry
AND you are going to have a lot of FUN and meet a lot on new friends!!
In order to see our events make sure to follow us on:


Delays of doctoral education due to COVID-19
Swedish national union of students (SFS) and its doctoral committee (SFS-DK) held a meeting on 2nd of February 2021 to discuss impacts of the pandemic on doctoral education and possible mitigations to reduce the pressure on doctoral students. To that end, some recommended measures were discussed including 2 months of prolongation for all doctoral students in Sweden who were enrolled before April 1st 2020 and are still enrolled by April 1st 2021. Such prolongation is estimated to cost approximately 1000 million SEK, which is requested to be provided by the government. See the summary of this meeting here.


Parental leave or changing your contract to part-time, & it's implication on vacation compensation
This is very important; please read it!

At the end of your employment, you have the right to receive monetary compensation for all vacation days that are saved up; but, the vacation compensation is (by law) calculated using your current employment percentage, and not the percentage with which you earned the days regardless of if you have increased or decreased your work percentage. For example,

if you have matured vacation days when working full-time (i.e. 100%), but before ending your contract you change it to a part-time (say, 50%); then, the vacation compensation will be with the % of the salary of your final contract, not the % when you matured your vacation days

.


For example, say you have

saved

the maximum amount of days from the year

2018 (i.e. 35 days)

and you have worked full time until January when you for any reason

change to part-time (50%)

. If you then work the whole year (i.e. 2019), taking out all new vacation that you are entitled to, and end your contract the year after (i.e. 2020) then you will still get monetary compensation for these 35 days that you have saved in the year 2018.

But, since you at the end of your employment worked 50% (i.e. part-time), the compensation calculation will go as follows

:
compensation = daily full time salary * 35 * 0.5
This means that you only receive half time pay for your saved 35 vacation days, regardless that you had earned them while working full time. If you had ended the contract before changing to part-time, or not changed to part-time at all, the compensation would have been the full 35 days of salary.


It is according to the law, and most likely will put in place to make the system easier. But, remember, it goes both ways. Vacation days that you earn while being on part-time parental leave counts as much as days that are earned working full time, so in the example above if you instead had just increased the work percentage you would have gained on the rules. It also applies for example if you have just increased your salary in case your compensation is calculated with your current salary rather than what you had when you earned the vacation day.

So better take your vacation days before changing the contract, and/or discuss with HR for details before you change your contract to part-time.
Chalmers Student Union Council Election
Should the union get a boat? Or build a roof terrace on the union building? A winebar at Olgas stairs? Nothing is impossible, and the student union council (FuM) decides!
Stress management and Sustainable Working life -online courses at Chalmers

Do you thing you're stressed during these tough pandemic times? Chalmers has a course on how to handle the stress and can be accessed for free here.


Are you struggling to balance between work life and recovery? The Sustainable working life course aims at giving Chalmers' employees the opportunity to gain knowledge and practise on achieving a sustainable working life. It also aims at raising the awareness of what a sustainable working life is and creating an enabling environment where the wellbeing of the employees is at the center.
Have you paid student union membership fee?
In order to to make sure to get the new student card in time, you can pay the student union membership fee when you get the reminder or you can pay it directly on the student union's homepage.

Login

and find your invoice under "Student fee".
This is a good opportunity to check if you belong to the right section (i.e. right student union); It should be "DS"!
Did you know, that you can use your Mecenat Card right from your phone? In case your card takes a little longer in the post or you forgot it on some important trip – download the app!
Introduction Day, GTS Courses, Study Plan, Exam
Introduction day:

A general introduction day is held each semester for all new doctoral students. This introduction day provides both general information about research studies (for example about the study plan) at Chalmers and information about rights and responsibilities.

The introduction day is mandatory! Next session:

14th of April 2020 from 09:00 - 12:00.

Read more about introduction day here.


GTS courses:
The aim of GTS Courses is to develop your personal and professional skills. As per Chalmers policy, 15 HEC of the GTS curriculum is mandatory
of which 9 HEC should be completed before the licentiate degree. Read more here.
Individual Study Plan:
Individual study plan for Ph.D. studies is mandatory.
Read more here.
Sign up for exams:
It's mandatory

for all students to sign up for exams on

Ladok. To sign up, go to "Examinations".

Read more here.
Popular presentation: It is mandatory to do one popular science presentation (GFOK070)

as part of the Generic and Transferable Skills training. To perform the mandatory popular presentation you should have reached the second half of your Ph.D. studies.

Read more here.
DS Movie - On being a Ph.D. Student at Chalmers
We highly recommend you to watch this 03-min long movie, made by DS, about Ph.D. life at Chalmers and how does it feel like being a Ph.D. Student at Chalmers. The movie is available on the DS website; also, you can watch the movie here. Feel free to share the movie and let the world know about Ph.D. Student life at Chalmers!
Vacation - Don't work when you are on vacation!
Vacation is an important time to rest and recover, allowing you to be more efficient during the rest of the year. So don't fall for the temptation to use it to catch up with you back-log. Also be aware that you are not covered by Chalmers insurance if you work when you have the vacation. Plan your vacation together with your supervisor and manager, so that you have enough time to rest. If you still have vacation days left when you end your employment you are entitled to be compensated for these saved vacation days. Read more about vacation rules here.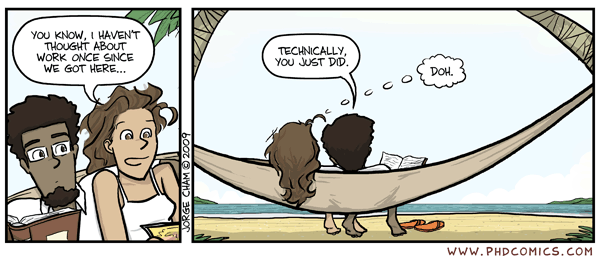 A. Spring in Sweden!

Not yet! Be aware of slippery road and (maybe?) some snowfall in Spring. You can watch this video on YouTube about "Spring in Sweden".
B. COVID-19:

Read Chalmers guidelines regarding working at home and campus, travel, sick leave, and more here.
Also see information from Swedish authorities regarding regulations, recommendations, vaccination, testing, travel, and more here.
Do you have questions about how to find a home? how to get insurance? how the healthcare system works? how to find a job?