DS Newsletter: Issue Apr/2022
Hello Chalmers PhD Students!
Here comes the first issue of the DS newsletter in 2022. In this newsletter we keep you updated about changes and important issues for PhD students at Chalmers, so please spend a few minutes to read this newsletter.

CHARM Career Fair 2022 (April 5th-6th)
CHARM is Chalmers Student Union's career fair and is arranged every year. The fair is one of Sweden's largest career fairs and is open for the 13 000 Chalmers students for two days.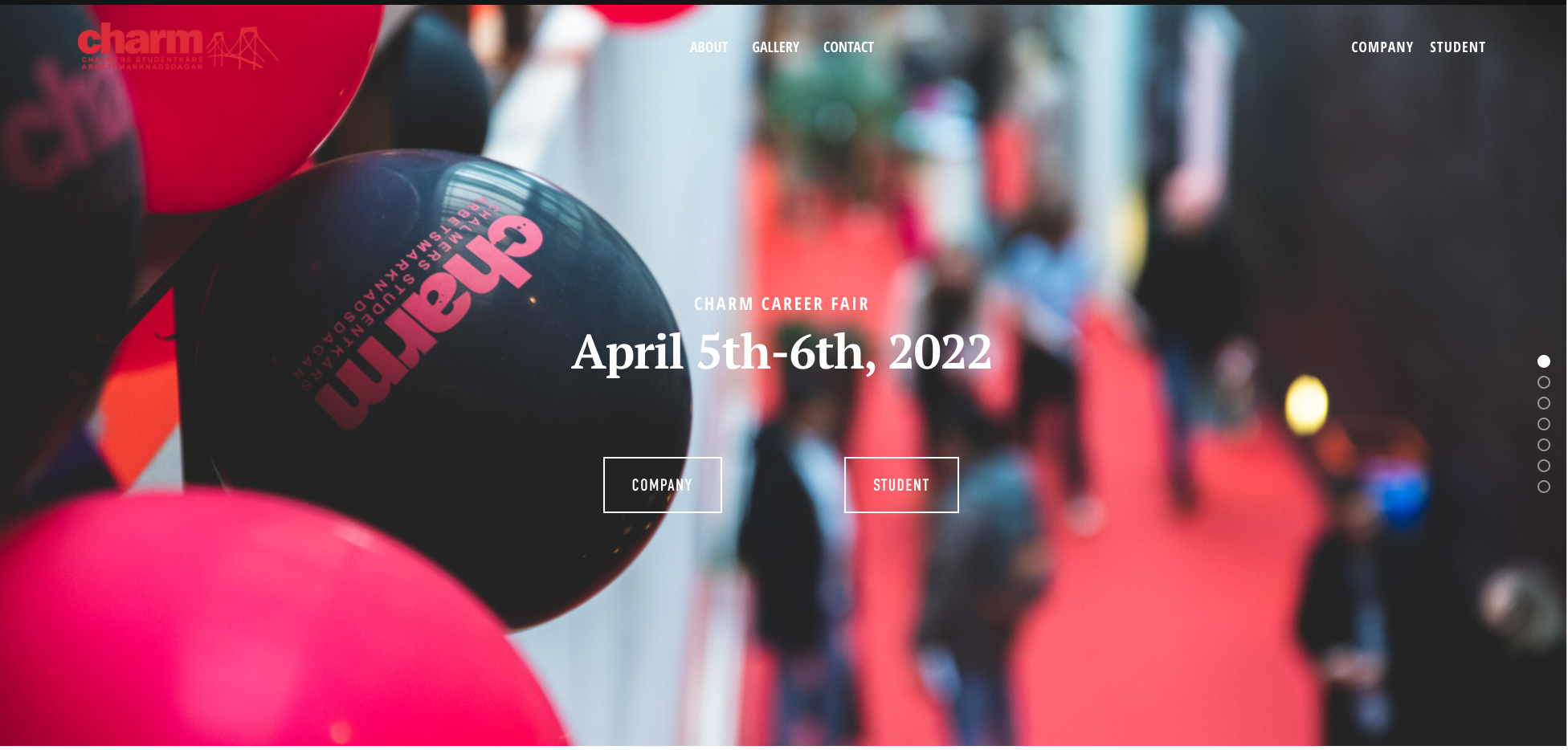 Chalmers Alumni Event 2022
The Chalmers PhD Alumni Event 2022 will be held at 6-9 pm on 13th April, online and at Chalmersska Huset, aiming to provide direct access to industry senior alumni for Chalmers PhD candidates. If you join in person, you will have more than one hour to mingle/network with senior industry alumni face to face during the dinner.
Register here
as soon as possible to secure your seats (before 4th April).
PhD Student Survey Concluded

On March 18, the 2022 PhD student survey held by the DS board was concluded. We would like to thank all of you who have participated and who have spread the word about the survey to their colleagues – your opinions are an important base for our work! We have received 319 answers, which corresponds to a Chalmers-wide answering rate of 34% percent and is unfortunately a significant decrease from the last survey's participation (468 answers).


We will soon begin to analyze the results and inform you when they are available. In the meanwhile, feel free to have a look at the previous survey's results, available as a report here and as detailed data here.


In the figure below you can compare the answering rate at your department to others.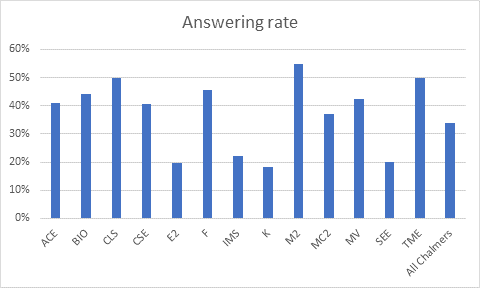 Supervisor of the Year Announced

This year's Supervisor of the Year is Torbjörn Thiringer from the Electrical Engineering department, congratulations!


The other finalist were Aleksandar Matic (Physics), Verena Siewers (Biology and Biological Engineering) and Magnus Rydén (Space, Earth and Environment, Energy Technology).


We want to thank Torbjörn and all finalists for their outstanding supervision.
Manifestation Against the Aliens Act

Together with the doctoral candidate committee at the University of Gothenburg, GUDK, we organized a manifestation against the Aliens Act which took place on February 26th. More than 200 people voiced their opinion against the new migration law that creates problems for non-EU PhD students in Sweden.


We also recommend this debate article, written by the leaders of the student unions of Sweden's technological universities (Swedish only). They directly address the government, demanding "Regeringen, kasta inte ut kompetensen!"


New Doktorandsombud (DOMB)

In our last newsletter we said farewell to Moyra, who has been the DOMB for the past six years. Now it is time to welcome our new DOMB, Pascale Blyth. In an interview, Pascale told us about her background and her motivation to become DOMB at Chalmers.


The role of the DOMB is to help individual PhD students with problems that may arise in the course of their research or employment. The DOMB is employed directly by the DS board and is hence independent from the university and a neutral party for the support of PhD students. Every PhD student, both those employed by Chalmers and industrial PhD students, can seek the DOMB´s guidance with any work related problem, big or small. The DOMB´s contact information can be found on the DS webpage under "support for PhD students".
Social Activities
Below you can see a couple of images from previous PhD hikes!
Introduction Day
The next Introday will be held as a lunch 11:00-13:00 on the 17th of May!
Sign up here for free lunch and important information for new PhD students, including doctoral students' rights and responsibilities, GTS courses, the Doctoral Student Guild and working environment.
Save the Date: General Assembly on 5th May

On 5th May we will have our

General Assembly. Join us to hear about ongoing changes and activities, provide your own input and vote for freedom of liability of the previous board.

Date

:

5th

May 2022

Time

:

12:00-13:00

Location

:

HA1, Hörsalsvägen 4
Make sure to bring your (valid) student union cards (or the digital version in the mecenat app) to be eligible to vote.
Have you paid student union membership fee?
In order to to make sure to get the new student card in time, you can pay the student union membership fee when you get the reminder or you can pay it directly on the student union's homepage.

Login

and find your invoice under "Student fee".
This is a good opportunity to check if you belong to the right section (i.e. right student union); It should be "DS"!
Did you know, that you can use your Mecenat Card right from your phone? In case your card takes a little longer in the post or you forgot it on some important trip – download the app!
PhD Student Guide

We regularly update the PhD Student Guide which includes useful information and links for PhD students. Some covered topics are shown in the following picture.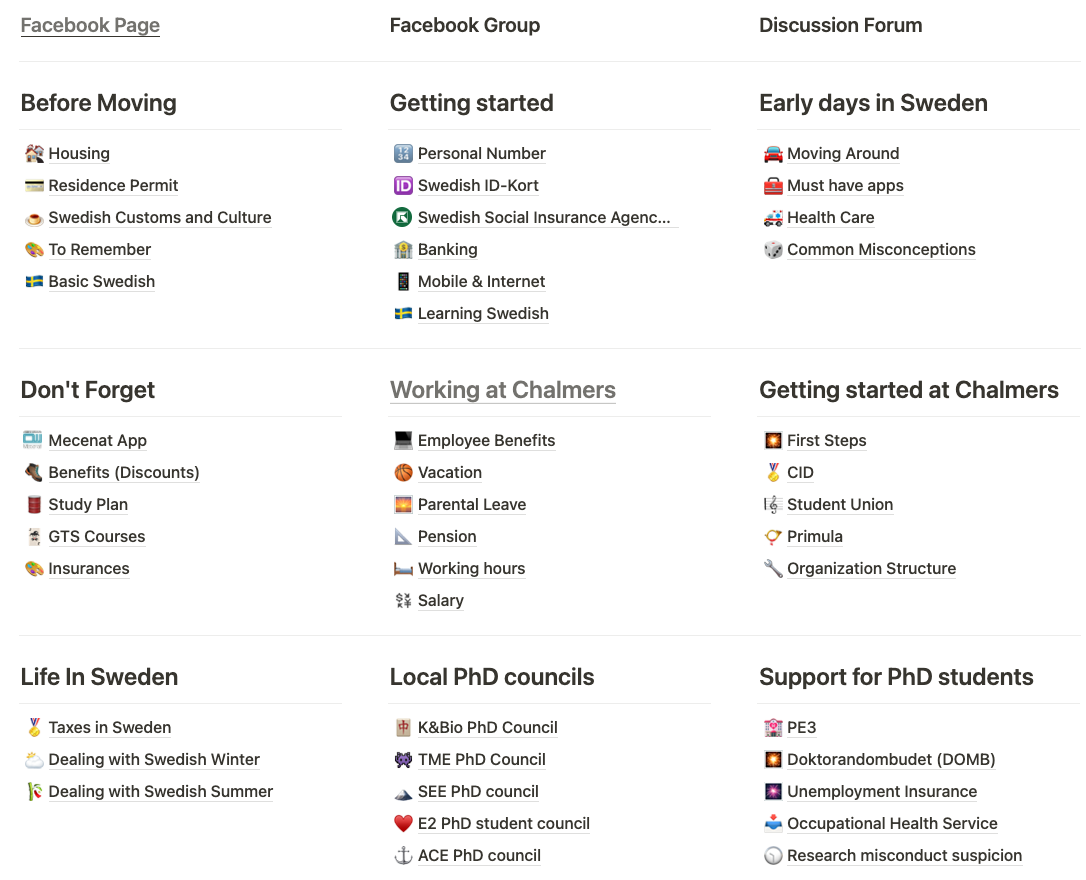 About Chalmers Doctoral Students Guild (DS)
The Chalmers Doctoral Students Guild (DS) is the coordinating body of PhD students at all Chalmers departments. It represents the PhD students' interests in several boards and committees at Chalmers and outside of Chalmers. Read more about DS here.