Hello Chalmers Ph.D. Students!
Here comes the first issue of the DS newsletter 2019, which we aim to send out 2-3 times a year. In this newsletter we keep you updated about changes and is

sues important for Ph.D. students at Chalmers, so please spend a few minutes to read this newsletter. It contains a lot of useful information for you.
About Chalmers Doctoral Students Guild (DS)
The Chalmers Doctoral Students Guild (DS) is the coordinating body of Ph.D. students at all Chalmers departments. It represents the Ph.D. students' interests in several boards and committees at Chalmers and outside of Chalmers. Read more about DS here.
CHARM Career Fair Impression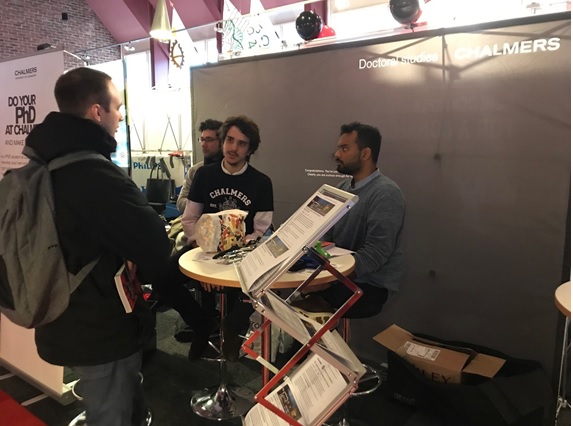 The DS Board organized a booth at the annual technology fair, CHARM, advertising for Ph.D. positions at Chalmers. The DS board members interacted with over 100 interested students, not only ranging from bachelors to postgraduates, but also from diverse backgrounds. While talking to prospective Ph.D. students during the work fair CHARM, we also took the opportunity to talk a bit with other companies.

The companies on the fair are aware of the number of Ph.D. students studying at Chalmers and are beginning to offer exciting career choices for newly graduated Ph.D.s.

If you are in the later part of your doctoral studies, consider paying CHARM a visit next year!
CHARM Chalmers Ph.D. Alumni Event
In connection to CHARM, DS organized a Ph.D. Alumni event on Friday before the work fair, where around 70+ Ph.D. Students attended. At the event, Chalmers Ph.D. alumni briefly presented their journey from Ph.D. student to their current job, suggestions for current Ph.D. Students, and answered questions from the audience. The event ended with dinner together with alumni where both Ph.D. Students and alumni interacted each other. "It was really a nice opportunity to hear their success stories" - says one of the participants about the event.
DS Movie - On being a Ph.D. Student at Chalmers
We highly recommend you to watch this 03-min long movie, made by DS, about Ph.D. life at Chalmers and how does it feel like being a Ph.D. Student at Chalmers. The movie is available on the DS website; also, you can watch the movie here. Feel free to share the movie and let the world know about Ph.D. Student life at Chalmers!
Vacation - Don't work when you are on vacation!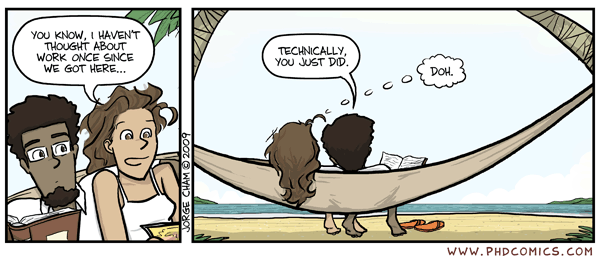 Vacation is an important time to rest and recover, allowing you to be more efficient during the rest of the year. So don't fall for the temptation to use it to catch up with you back-log. Also be aware that you are not covered by Chalmers insurance if you work when you have the vacation. Plan your vacation together with your supervisor and manager, so that you have enough time to rest. If you still have vacation days left when you end your employment you are entitled to be compensated for these saved vacation days. Read more about vacation rules here.
Parental leave or changing your contract to part-time, & it's implication on vacation compensation
This is very important; please read it!

At the end of your employment, you have the right to receive monetary compensation for all vacation days that are saved up; but, the vacation compensation is (by law) calculated using your current employment percentage, and not the percentage with which you earned the days regardless of if you have increased or decreased your work percentage. For example,

if you have matured vacation days when working full-time (i.e. 100%), but before ending your contract you change it to a part-time (say, 50%); then, the vacation compensation will be with the % of the salary of your final contract, not the % when you matured your vacation days

.


For example, say you have

saved

the maximum amount of days from the year

2018 (i.e. 35 days)

and you have worked full time until January when you for any reason

change to part-time (50%)

. If you then work the whole year (i.e. 2019), taking out all new vacation that you are entitled to, and end your contract the year after (i.e. 2020) then you will still get monetary compensation for these 35 days that you have saved in the year 2018.

But, since you at the end of your employment worked 50% (i.e. part-time), the compensation calculation will go as follows

:


compensation = daily full time salary * 35 * 0.5
This means that you only receive half time pay for your saved 35 vacation days, regardless that you had earned them while working full time. If you had ended the contract before changing to part-time, or not changed to part-time at all, the compensation would have been the full 35 days of salary.


It is according to the law, and most likely will put in place to make the system easier. But, remember, it goes both ways. Vacation days that you earn while being on part-time parental leave counts as much as days that are earned working full time, so in the example above if you instead had just increased the work percentage you would have gained on the rules. It also applies for example if you have just increased your salary in case your compensation is calculated with your current salary rather than what you had when you earned the vacation day.

So better take your vacation days before changing the contract, and/or discuss with HR for details before you change your contract to part-time.
Interview with DS Chair Giulio Calcagno
Giulio Calcagno, PhD Student at Applied Surface Chemistry, Department of Chemistry, is working as the Chair of DS Board 2018-19. His research focuses on the materials and chemistry behind electrical energy storage solutions, specifically hybrid super-capacitors, with the aim to develop efficient and sustainable alternatives to lithium-ion batteries. Recently we interviewed Giulio, and asked him questions ranging from "how does it feel like being in the DS Board" to "hobbies" and "handling stress".


"There is no unique concept of "normal". Everything (behaviours, rules, expectations…) is contingent on the situation. When you accept that, you can then focus on how to be flexible with the context and vice versa;... Life becomes much easier and rewarding."
The journey from Ph.D. (DS boardie) to Ericsson
After PhD at signals and systems department (currently electrical engineering), Naga joined Ericsson research in Gothenburg working on the standardisation of 5G systems.

He is also part of the brand ambassador group and Ericsson response as a volunteer

. Ericsson Response participates in humanitarian relief operations. In times of need or when disaster strikes, Ericsson Response uses its technology, competence, resources and solutions to support partners and their relief operations.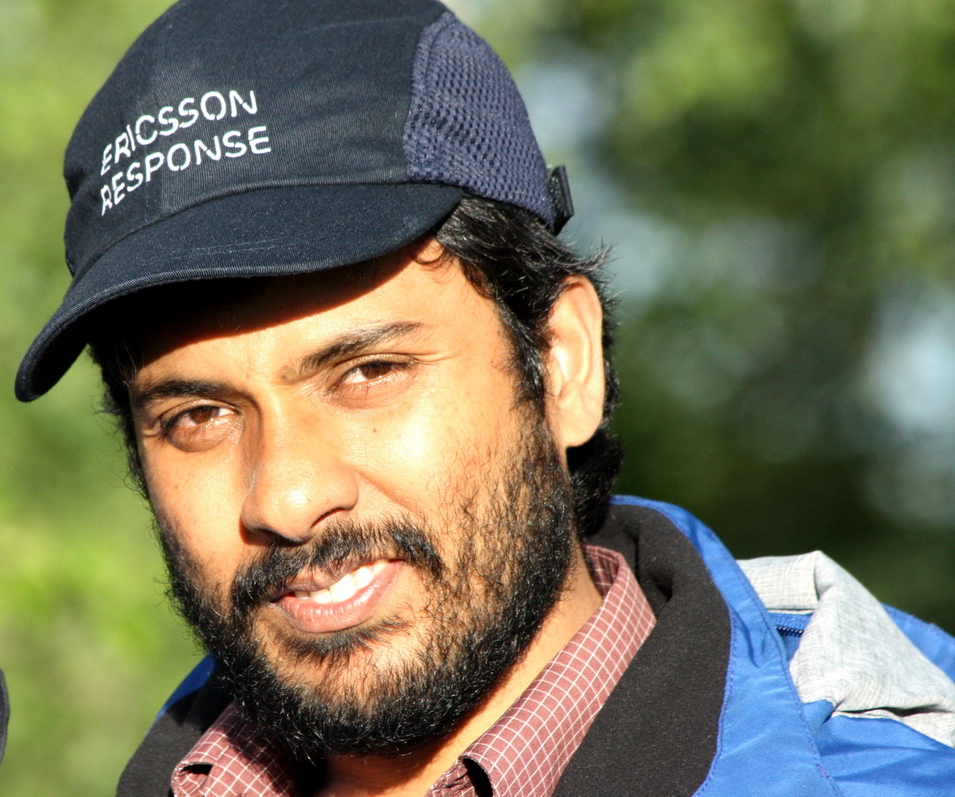 Photo: Naga VishnuKanth Irukulapati
Consequences for you as a researcher after the ended Elsevier deal
Do you know that Chalmers has ended the contract with Elsevier, which means that Chalmers researchers don't have access to articles published in Elsevier after 1st of July 2018 (see link below to read more on this)? In this regard, we recommend you to read the blog article written by Jessica Lindholm from the Dept. of Communication and Learning in Science at Chalmers to get some useful insights/tips and know more on the consequences for you as a researcher. Read the article here (in English), or here (in Swedish); more on ended contract with Elsevier here.
Fill out the employee survey properly
Please fill out the employee survey properly; it's your opportunity to give the right feedback to Chalmers for improvements. This employee survey is totally anonymous and is taken seriously; so, please let Chalmers know your feedback/concern. Also, please don't give fake results (e.g. if you really don't want to answer any point), it's misleading; rather skip that question. By doing so you are helping everyone to figure out the space for improvements. You will find the full DOMB's report here.
New health service PE3 (replaces FeelGood)
Chalmers Student Union Council Election
Should the union get a boat? Or build a roof terrace on the union building? A winebar at Olgas stairs? Nothing is impossible, and the student union council (FuM) decides!
Are you interested in becoming a member? Candidacy starts on the 1st of March, and is open for all Chalmerists. Keep an eye on our Facebook page for info!
Have your paid student union membership fee?
It seems like some of us didn't get the reminder to pay the student union membership fee. If you want to make sure to get the new student card in time, you can always pay the fee directly on the student union's homepage. Login and find your invoice under "Student fee".
This is a good opportunity to check if you belong to the right section (i.e. right student union); It should be "DS"!
Did you know, that you can use your Mecenat Card right from your phone? In case your card takes a little longer in the post or you forgot it on some important trip – download the app!
Introduction Day, GTS Courses, Study Plan, Exam
Introduction day:

A general introduction day is held each semester for all new doctoral students. This introduction day provides both general information about research studies (for example about the study plan) at Chalmers and information about rights and responsibilities.

The introduction day is mandatory! Next session:

9th of May 2019 from 09:00 - 12:00.

Last date to register: 8th of May 2019.

Register here

.

Read more about introduction day here.


GTS courses:
The aim of GTS Courses is to develop your personal and professional skills. As per Chalmers policy, 15 HEC of the GTS curriculum is mandatory
of which 9 HEC should be completed before the licentiate degree.
Read more
here.
Individual Study Plan:
Individual study plan for Ph.D. studies is mandatory.
Read more here.
Sign up for exams:

It's mandatory

for all students to sign up for exams on

the Ph.D. portal. To sign up, go to "My start page" and choose the service "Examination, sign-up/cancel sign-up".

Read more here. You can also see your transcript in the

Ph.D. Student Portal.
Popular presentation: It is mandatory to do one popular science presentation (GFOK070)

as part of the Generic and Transferable Skills training. To perform the mandatory popular presentation you should have reached the second half of your Ph.D. studies.

Read more here.

A list of available presentation platforms can be found

here.
C. 1177
- Finding your way around the Swedish healthcare system, and GDPR rights
Gothenburg's Welcome Services will hold a lecture for international
researchers, faculty and staff at University of Gothenburg and Chalmers on 27 of March, 5:30 PM - 7:00 PM. It will give you a brief introduction to the Swedish healthcare system and how to use 1177.se online healthcare guide. Register and see details here.


While you're registering, don't forget that

handling sensitive healthcare information should be given an appropriate consideration

, which has recently been unveiled to be problematic as reported that

millions of calls to Swedish healthcare exposed online

. Do exercise your rights that the recently introduced EU General Data Protection Regulation (GDPR) gives you. Read more here (English), here (in Swedish), and here (English).